Client: Tim Smith
Location: Barnet, North London
Dwelling: Apartment
The Space: The entire apartment (Bedroom, Kitchen, Bathroom, Hallway & Living Room).
I am super excited to finally reveal the North London bachelor pad we designed for our latest client and now dear friend, Tim Smith. Tim is a Designer and Illustrator, working at UsTwo Automotive Design and approached Space Shack after being an avid fan and following us on Instagram. As a creative individual, he wanted someone who could visualise his ideas for his home, and we always love working with design motivated clients who want a more collaborative process and work together to make their dream space. Over the following weeks, we set to develop a brief and set work giving his apartment a much-needed face lift. As you can see, the place wasn't in terrible condition, in fact, some areas required very little work at all but the kitchen and bathroom were crying out to be fixed up.
The Brief:
Tim approached us late last year as he was extremely frustrated about his apartment as it seemed impossible to make the most out of his small space. He wanted to transform the entire apartment and use the giant wall illustration by Jon Burgerman, a mural he commissioned in 2015 for his living room as a inspirational starting point for the design scheme. Even though Jon's work can be quite colourful, in this space the funky mural has clean black lines and is completely monochrome so we planned to incorporate these elements to set the mood for each room.
Half kitchen refit including a new worktop, splash back tiles, floor tiles and fresh paint
A new practical and stylish bathroom
General renovations throughout hallway and living area including new paint and brickwork
To renovate the existing bedroom design
New lighting solutions for the living area, bedroom and hallway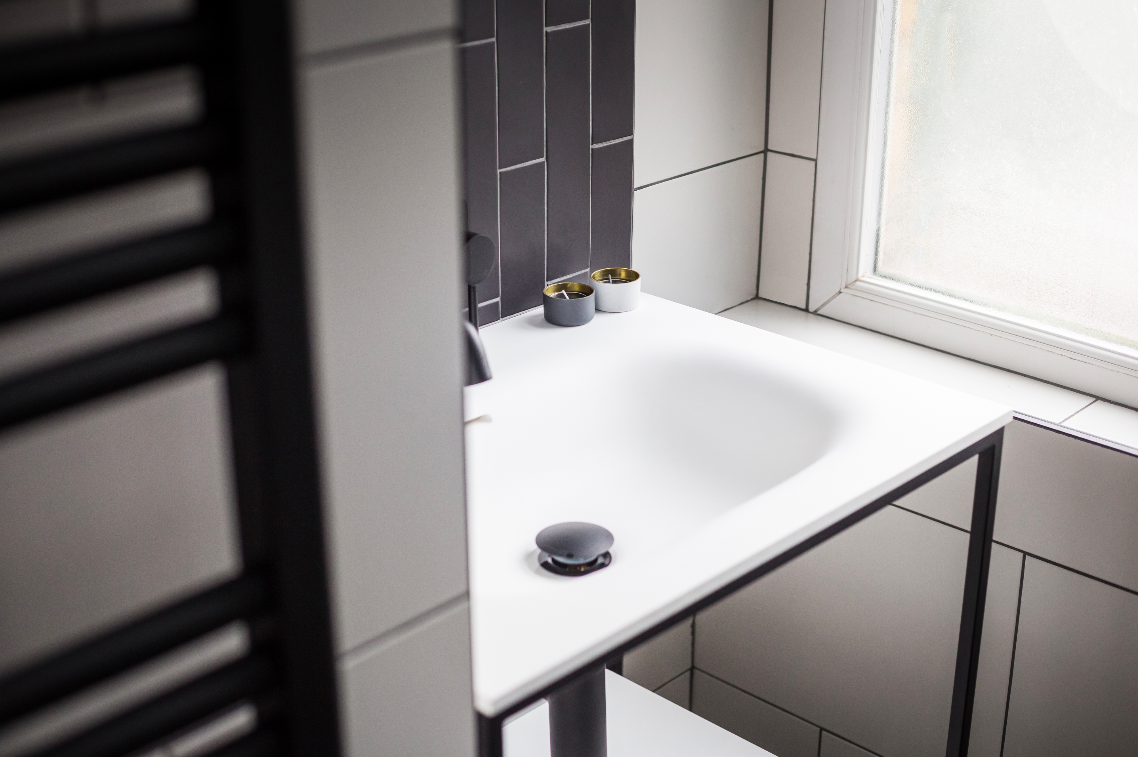 The Transformation
The living room wasn't in bad condition at all, we loved the exposed brick main wall as much as Tim did. The room just needed some TLC and practical renovations to stop it from getting into disrepair and the addition of some brand new furniture, soft furnishings and some imaginative rearranging. From a practical point of view new plug sockets needed to be installed within the brick wall as he wanted to face this feature wall as it was his part of the room, so our builders worked their magic and concealed the wiring behind the mortar.
To ensure this wall stayed in good condition we patched up the brickwork as it had quite a few holes and cracks, and then finished off by using a sealant to protect it from further wear and tear. After painting all the walls, the ceiling and woodwork with a fresh coat of paint we fitted in a new feature light to tie in all the decor Tim already had in place. We added some black and white geometric cushions from West Elm and teal coloured ones from Monologue London to go on his sofa.
The kitchen area was a pet hate for Tim, particularly with the garish vivid purple glass worktop and splashback and the fact it felt cramped and made it an awful place to cook in as there was hardly any preparation or storage space. The kitchen was decked out with a simple but decent white Cucina Kitchen. Tim was famous amongst his friends for having this hideous purple kitchen, which initially started off as something quite retro and cool but over time became something he loathed and despised. Tim has had to wait until he had enough budget before he could do anything about it and we suggested to remove the bright purple worktop and replacing it with a less invasive colour palette! We wanted to keep the chalk wall as it was quite charming and gave the small room some much-needed character but we wanted to divide it up a bit so it would become more of a practical design feature, rather than something you just doodled on. We created sections within the chalk wall where tim will be able to write shopping lists, write notes, have space for an amendable calendar and also have a cheeky doodle now and again.
The hallway has a bespoke storage solution built into the wall and after we had our initial meeting at Tim's space, it soon became one of our favourite spaces of the entire apartment. It was smart and used the limited space well, the only issue with it was the lighting. The existing pendant lights kept getting in the way when he wanted to access his cupboards storage and as a result, would damage the cupboards themselves. as the paint work was gradually being chipped away over time.
We decided to install new matte white Phillips Hue Runner LED Lights, we particularly love these lights as they are ideal for this kind of space as they are on a small track and can be operated with a remote which controls the hue and even the schedule for when they come on in the evenings.

The bathroom was another room Tim desperately wanted to change. It was dark and impractical and the door would open from the inside not allowing any room to move. As Tim is quite tall and never uses the bath tub we suggested removing it entirely and installing a shower unit instead, The sink was also far too tiny for Tim and he would always hit his head against the cabinet above it when he washed his face and brushed his teeth! We decided to use black hardware, radiator and white tiles to introduce another masculine monochrome feel to this key space.
Tim is a light sleeper and to try and help solve this problem he had painted his room all black. All the woodwork, ceiling and blinds were white, and a lot of light still came through his Venetian blinds. We wanted to turn this basic looking dark space into something more stylish and less of a 'man cave'. By continuing the bachelor pad vibe running through the apartment, this enabled us to break up the severity of the bedroom decor. We achieved this by adding a modern bedside light, and Devid floor lamp from Decorum, black roller blinds and some matte black Phillips Hue Runner LED Lights on the ceiling which he could control remotely again from the comfort of his bed. To finish the look off, we introduced some brand new bedlinen from West Elm and some scatter cushions and throws of various textures and dark hues.
We are ecstatic with the final finished result and Tim is so pleased he has an apartment he can now invite friends and family over, and the two rooms he most hated before have surprisingly become his favourite rooms in the entire apartment!
The monochrome detailing really worked and our personal favourites have been the vanity unit and sink with the matte black taps. A big thank you to Tim for allowing our cameras into his home and for letting us interview him too. We'll be going into each room in much more detail over the following few weeks, so don't forget to check those out. You can do this by keeping up to date with our regular project new like this one by following us on Instagram or liking us on Facebook.
Love Omar x
Photography & Video Production by Reece Chapman and Collective Vision.